Oriental rug cleaning
by On The
Spot!
®
Carpet Cleaning Specialists Inc specializing in the cleaning of all your area rugs.  Our state of the art on-site facility meets the needs of our customers loose rug cleaning, whether it's wool, synthetic, or an obscure fibre, our highly skilled technicians are well educated in the cleaning process.
SAVE - SAVE - SAVE!
Bring your area rugs to us and save 25%
off the cost of cleaning!
Area Rugs are:
Inspected for spots, stains, and damage prior to cleaning
Tested for colour fastness
Each carpet is cleaned and hung to dry
Fringes are delicately cleaned by hand
Minor repairs and re-fringing are done upon request
3M Scotchguarding is also available
The carpets are re-inspected
Finally they are bagged for delivery or pick-up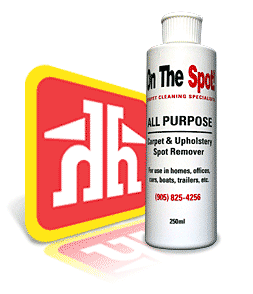 Our famous Carpet & Upholstery Spot Remover